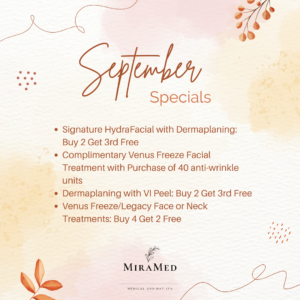 We recommend monthly HydraFacials with dermaplaning as our skin cells regenerate every 28 days. Get 3 for the price of 2 with our September Special to prepare your skin for the upcoming holidays! Only $500/3!
Purchase 40 units of Jeuveau/120 units of Dysport and receive a complimentary Venus Freeze facial treatment! Venus Freeze skin tightening treatments are relaxing collagen producing to give your skin the ultimate glow and enhance your 'tox results. Save $240!
Enjoy the exfoliating, anti-aging, and sun damage reversing benefits of combining dermaplaning with VI Peel! Feel more comfortable in your skin after a series of 3 (one every 4-6 weeks). Buy 2 get 3rd free: $840/3!
Venus Freeze/Legacy face or neck treatments are buy 4 get 2 free this month for the ultimate 6 treatments! Venus Legacy is a painless, nonsurgical, skin tightening/wrinkle reducing treatment with no downtime. It can even break down stubborn fat under the chin! Notice healthier, glowing skin after a series of treatments. Save $480!
Call to book now or we can apply any of these specials at checkout if you book online! Link below.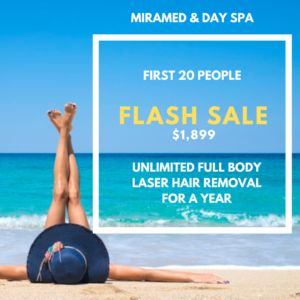 You don't want to miss out on this special offer! Only $1,899 for a year of up to full body laser hair removal sessions! Save time and money on shaving! Call now and reserve your spot or do so online by pre-purchasing a gift certificate.
Book an Appointment
Contact Details
Locations
Santa Barbara
1921 State St. Suite B
Santa Barbara, CA 93101
805.770.2461
Carpinteria
916 Linden Ave,
Carpinteria, CA 93013
Hours
Monday
Tuesday – Friday
Saturday
Sunday